The BAFANG BBSHD 1000W motor kit is considered the most powerful in the BAFANG range. It is very efficient and operates silently.
Thanks to its design, it can easily be integrated into any bicycle, allowing a hassle-free electric conversion. It adapts to different types of bikes and integrates seamlessly with your cycle, providing an unparalleled electric riding experience.
BAFANG Catalog
BAFANG motor CANADA
BAFANG motor United Kingdom
BAFANG motor United States of America
BAFANG motor worldwide
BAFANG display Canada
BAFANG display United Kingdom
BAFANG display United States of America
BAFANG display worldwide
BAFANG battery Canada
BAFANG battery United Kingdom
BAFANG battery United States of America
BAFANG battery worldwide
BAFANG component Canada
BAFANG component United Kingdom
BAFANG component United States of America
Bafang component wordwild
BAFANG BBSHD 1000W : Kit 48 V 1000 W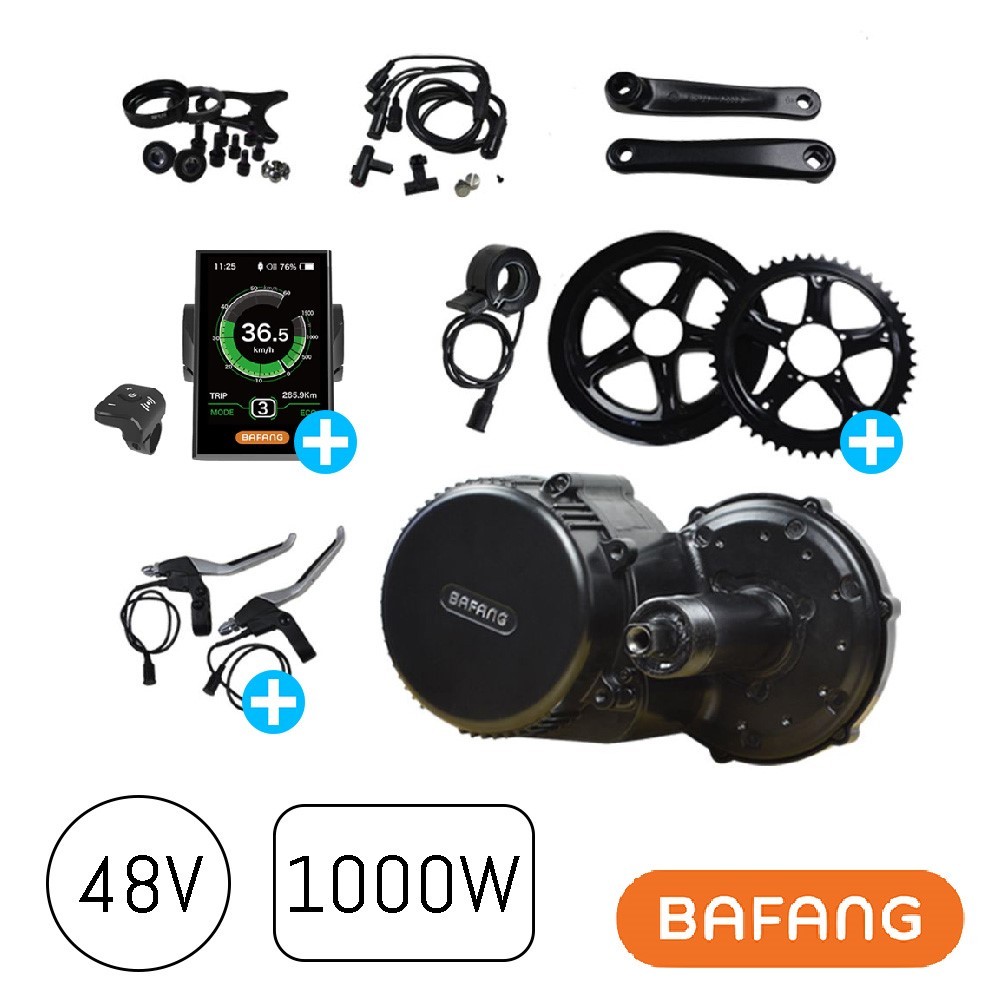 The BAFANG BBSHD 1000W motor kit is a powerful and reliable choice for riders looking for a high quality electric conversion.
With a rated power of 1000 watts and a maximum torque of 180 Nm, this motor weighs only 5.6 kg, but delivers incredible results. It responds quickly and efficiently to pedal assist demand, delivering impressive power assist.
Thanks to its seamless integration on your bike, this electric conversion solution is an ideal choice for e-bike enthusiasts looking for power and reliability.
The BAFANG BBSHD 1000W 48V kit is a high-end electric bike assistance system. This kit delivers exceptional performance and is one of the most powerful ways to convert your bike into a performance e-bike. The motor is easily attached to the bottom bracket axle and assists the cyclist during pedaling thanks to its integrated gearbox.
What is important
The gear ratio therefore allows the engine to operate optimally and efficiently, even during normal driving. The kit is equipped with a 6V light output (up to 500mAh) controllable from the screen and the control unit. With a rated power of 1000W and a maximum torque of 180Nm, this kit is therefore the ideal choice for cyclists looking for exceptional performance. Moreover, despite its power, the motor is surprisingly light, weighing only 5.6 kg.
Like a 500W mid-motor, it has very large windings and magnets and is therefore ideally positioned for heavy-duty mountain riding. It is therefore particularly recommended for cyclists who want to ride at high speed uphill or on paths and for trekking bikes. If you want to drive long distances faster, this electric conversion kit is the top of the electric assistance products that will propel you ideally in all modes of use.
BAFANG BBSHD 1000W: Which equipment to choose?
Bicycle chainrings can therefore vary considerably in terms of the number of teeth. This difference therefore has a significant effect on the transmission of torque to the wheel. Thus, with a lower number of teeth, the torque transmitted to the crank will be higher. This will make your bike more dynamic and responsive. This configuration is therefore particularly useful for cyclists who ride in mountainous landscapes. It is perfect for those who want to quickly climb the climbs.
In addition to that, a small chainring also protects the motor as it operates in an optimal range. This is valid even at low driving speed, without the need to force. On the other hand, if you opt for a larger chainring, your bike will be a little more difficult to start. On the other hand, you will reach a higher top speed. In this case, you will also have more torque available at high pedaling speeds. However, with large chainrings, you must be careful not to overheat the motor. This is true during the start-up phases and on steep slopes or at low speeds.
It is important to note that intensive use requires a lot of energy. This will disperse in heat during the ascent phases. It is therefore important to carefully check the size and compatibility of the chainrings with your bike.
BAFANG BBSHD 1000W: Technical characteristics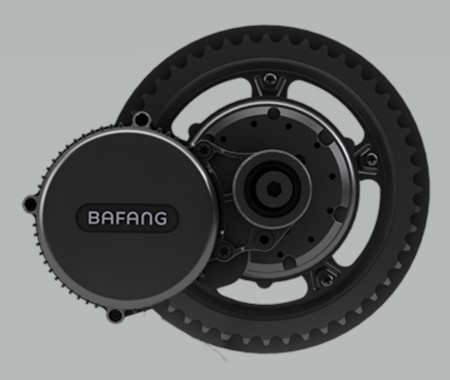 The BAFANG BBSHD 1000W is an electric bicycle assistance system offering a voltage of 48 V. Its power is 1000 W and its maximum torque is 180 Nm.
This system installs at the middle crank position with an indirect drive type. It has an integrated Hall effect sensor and a connection for the switch sensor.
The bottom bracket requires an installation dimension of 68mm in length. It has IP65 protection for better durability. Furthermore, it has a light output of 6V and weighs 5.6 kg. The characteristics of this system make it an ideal choice. It is perfect for cyclists looking for efficient and reliable assistance for their movements.