BAFANG BBS01 is certainly one of the best-referenced BAFANG electric kits in the BAFANG motor range. It is torquey and powerful. Its compactness and its design facilitates its installation in any bike.
It is therefore very easy to install and it motorizes a large number of cycles easily. It easily provides the electrical conversion step that everyone is looking for. The integration of the motor into your bike will be completely transparent. This kit has been designed so that everyone can install it themselves.
BAFANG Catalog
BAFANG motor CANADA
BAFANG motor United Kingdom
BAFANG motor United States of America
BAFANG motor worldwide
BAFANG display Canada
BAFANG display United Kingdom
BAFANG display United States of America
BAFANG display worldwide
BAFANG battery Canada
BAFANG battery United Kingdom
BAFANG battery United States of America
BAFANG battery worldwide
BAFANG component Canada
BAFANG component United Kingdom
BAFANG component United States of America
Bafang component wordwild
BAFANG BBS01 : 36 V 250 W Kit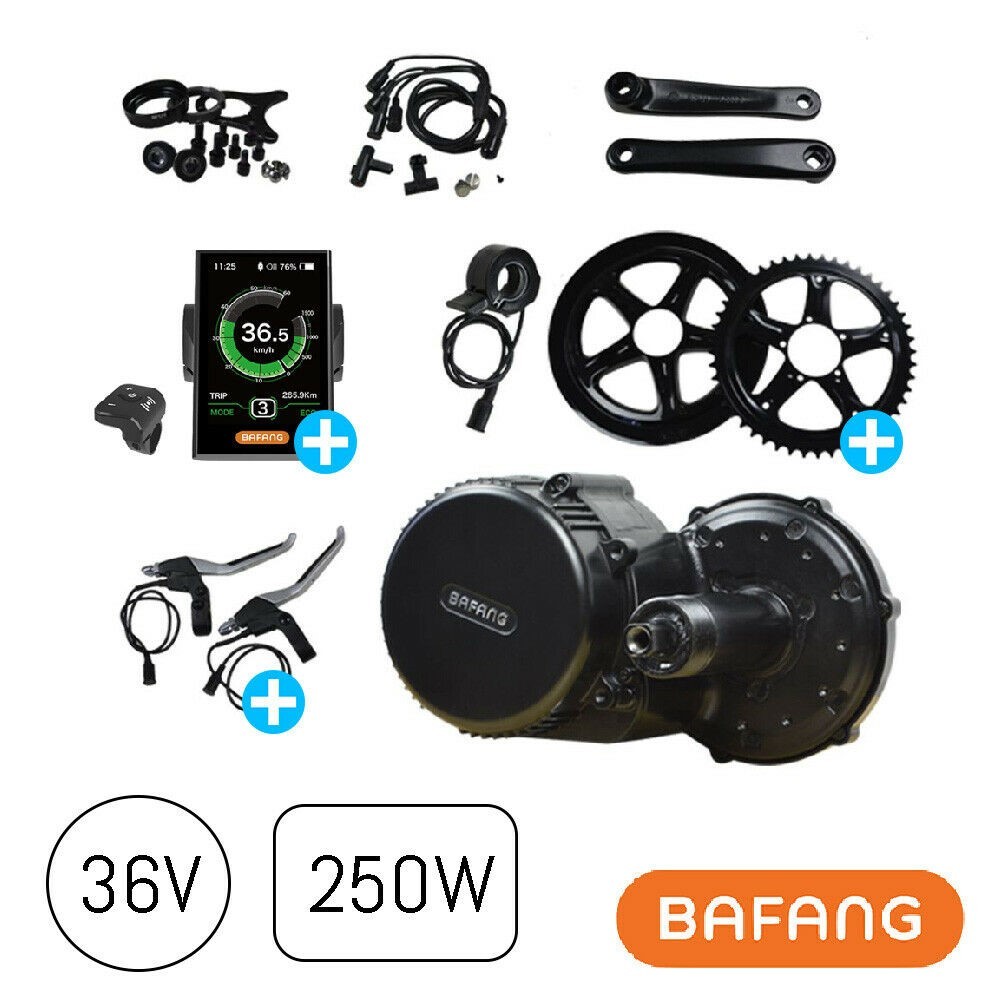 The BAFANG BBS01 pack therefore offers a nominal power of 250 watts for a maximum of 80 Nm of torque. The motor thus operates under a voltage of 36 V. It then weighs only 3.9 kg and always offers optimum performance.
It is therefore the first choice for eMTB bikes. The electric motor thus reacts with lightning speed to the effort you exert on the pedals. So it truly offers impressive power assist support at all times with terrific responsiveness.
The BAFANG BBS01 36V 250W conversion kit is therefore an excellent choice for e-bike enthusiasts. It is equipped with an integrated 25A control unit, making it one of the most efficient drives in its class. Thanks to its direct integration on the crank, it supports the driver when pedaling and has an integrated gearbox. The gear ratio ensures that the engine operates in its most efficient speed range during normal driving.
Additionally, this conversion kit offers 6V (up to 500mAh) light output, which can be controlled from the display and control unit. It adapts perfectly to all modes of use and is therefore an excellent choice for people looking to cover long distances faster while benefiting from electric assistance. With the BAFANG BBS01 36V 250W, you can easily transform your bike into a high-quality electric vehicle.
BAFANG BBS01 : Which equipment to choose?
There are therefore different models of chainrings for electric bikes, with a variable number of teeth. This number of teeth thus influences the torque that you transmit to your bike. Indeed, the lower the number of teeth, the greater the torque transmitted, which makes the bike more responsive and dynamic. This configuration is therefore particularly useful in mountainous terrain where the slopes are steep and require a rapid ascent.
However, it is important to note that this configuration also protects the motor, which operates in an optimal range without forcing even at low speeds. Conversely, a higher number of teeth will make the bike a little slower at low speeds, but with higher top speed and more torque available at high rpm. However, it is essential to be careful not to overheat the system during starts or on steep slopes, as a large amount of energy will be dispersed and converted into heat.
It's also important to check the compatibility of the chainrings with your bike to avoid setting an unsightly chainline. In short, the choice of the number of teeth will depend on your use and the type of terrain you are on.
BAFANG BBS01 : Technical characteristics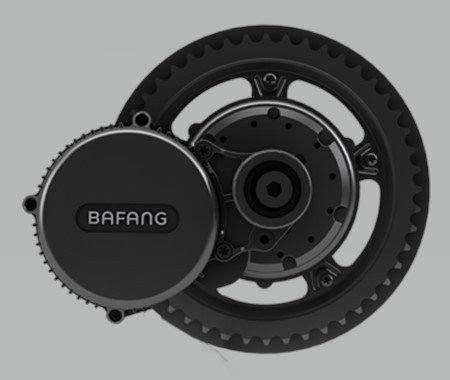 The drive system used is an indirect electric motor with a voltage of 36V and a power of 250W. It is installed at the bottom bracket, in a medium position.
The motor is capable of generating a maximum torque of 80 Nm, which provides effective assistance when pedaling. It is equipped with an integrated Hall effect sensor for precise position detection.
The bottom bracket is 68mm long and is protected by an IP65 certification for increased resistance to water and dust. In addition, it has a connection for the switching sensor. The system offers a light output of 6V and its weight is 3.9 kg.